November 2019 Newsletter



Upcoming events

Mountain Oyster Club Art Show




11/24, 2019

Seaside Gallery Animal Art Show
12/6 -12/7, 2019


30th Cattlemen's Western Art Show
4/3 - 4/5, 2020

White Lamb
oil on board, 8" x 8", $250
---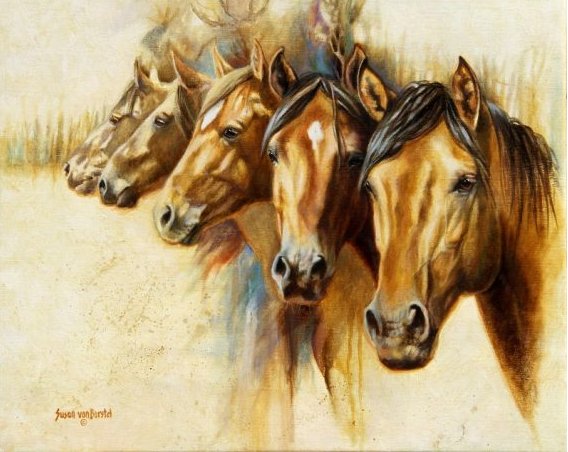 The Morning String
21" x 26", oil on panel, $2600Thank all of you who attended my shows this season! I was very happy with with a "Best of Show" at the Kennedy Gallery's 20/20 show, a very successful Davis Studio Tour and many sales.
Working this year on both natural stone and canvas has given me new insights into each. The stone's patterns suggested new compositions for my canvases. The freedom of color on canvas inspired new earth color mixes for the stones.
Factoid: Many painting pigments are made from stone.
The Morning String (on the left) has just been accepted to the exclusive Mountain Oyster Club's 2019 Western Art Show, Opening Sunday, November 24th in Tuscon, Arizona.
I'll be painting at the Seaside Gallery's Animal Art Show in Pismo Beach on Saturday December 6th and Sunday December 7th from 10am until 4pm. Come by and visit.
It's time to paint up a storm for the 30th Annual Cattlemen's Western Art Show in Paso Robles, CA from April 3rd through 5th, 2020. I'll be there painting as usual. Please come see the show.
Here are four new pieces. Hope you like them.
---

Look
I liked the raw linen of this canvas and used clear gesso so the linen would show. Then I looked for a subject that had a similar beige to repeat the color of the canvas. I made up this dog head which gave me freedom to create the canvas color in the shadows. Don't you wonder what the dog is thinking?
oil on linen (clear gesso), 16" x 20", $1600
---
---
---
---

Website:
susanvonborstel.com Email: This email address is being protected from spambots. You need JavaScript enabled to view it.

My original paintings can be seen at
To view this on my website click here
You have recevied this email because you have subscribed to my newsletter
If you no longer wish to receive email from me, please This email address is being protected from spambots. You need JavaScript enabled to view it.