October 2018 Newsletter
In a Flash
oil on canvas, 20" x 16"

---
Latest Paintings and Exhibits
---
Mountain Oyster Club Art Show

My painting Equine Art, oil on board, 20" x 16", was choosen by the prestigious Mountain Oyster Club for their 49th Annual Mountain Oyster Club Contemporary Western Art Show and Sale, 6400 E. El Dorado Circle, Tucson, Arizona 85715. Please contact them to request an invitation,
The official opening will be on Sunday, November 18. The show will run until the end of the year.
"I'm really enjoying experimenting with techniques to depict energy and time in my paintings."
---
New Paintings
Cat Like
oil on granite, 12" x 12"
More information at Seaside Gallery
---
Halloween "Light and Magic"
My painting Light and Magic hanging above a collector's fireplace with
Halloween decor. Thanks, Tom and Pat.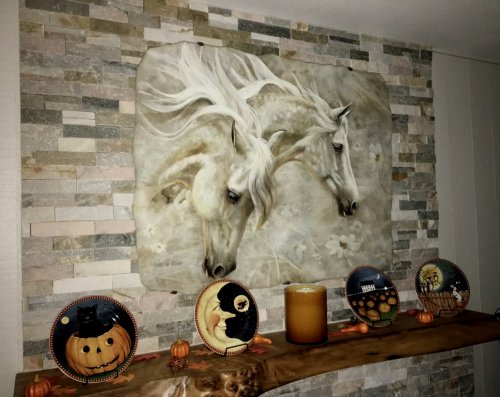 ---
Kennedy Gallery
Sacramento, California
December 2018
Two of my paintings will be on display at the "Let it Snow" exhibit
in the Kennedy Gallery at 1931 L Street, Sacramento, CA 95811,
Phone: 916.400.4272.
The show will run through the month of December.
Joy and Delight
oil on canvas, 24" x 20"
Mr. Fox's Lunch Run
oil on quartz, 20" x 17.5"

---

Website:
susanvonborstel.com Email: This email address is being protected from spambots. You need JavaScript enabled to view it.

My original paintings can be seen at
To view this on our website click here
You have recevied this email because you have subscribed to Susan's newsletter
If you no longer wish to receive email from us, please This email address is being protected from spambots. You need JavaScript enabled to view it.