May 2022 Newsletter

May 2022 Newsletter
---
I've been experimenting with close-up subjects in a square format. Faces have eyes that tell a story, flowers have motion and centers, and amazing beauty. I want "up close and personal" to help deepen our experience. I feel charged after painting this way.
I'm featured in a one-artist show at the Blue Wing Gallery from May 6 through July 25. The show's opening night, May 6, is also Woodland's First Friday Art Walk. Oil paintings on natural stone and on canvas are on display.
It's a weekend of fun as the next day, Saturday, May 7 is the California Honey Festival.
The Blue Wing Gallery is located in historic Woodland, California at 405 Main St. (530-666-9498). Hours are Tuesday - Saturday from 11 am - 5 pm. I hope you'll visit.

These are some of my cows, cats, roses, and whimsy paintings that will be at the show. Feel free to comment and email me your thoughts, This email address is being protected from spambots. You need JavaScript enabled to view it..
Paintings in the show are on my website susanvonborstel.com
---
I studied and photographed cows while attracting their attention with music.
They approached me and seemed to love it.

cow, oil on canvas, 20" x 20", $2100.
What do cats really think?
Curious, oil on wrapped canvas, 20" x 20", $2100.
A flower's colors and shapes are calming and delightful.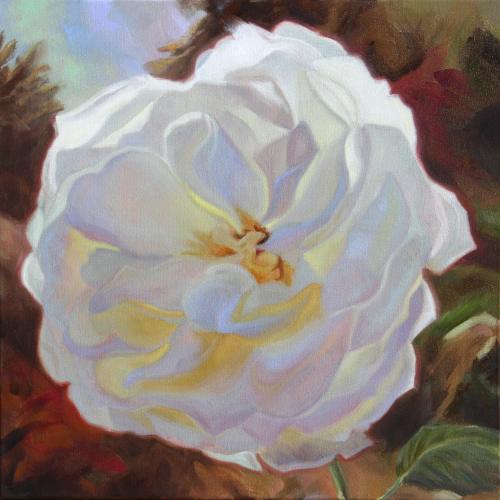 White Rose, oil on canvas, 20" x 20" , $2100.
Funny and unexpected meanings tickle my imagination. Yours too?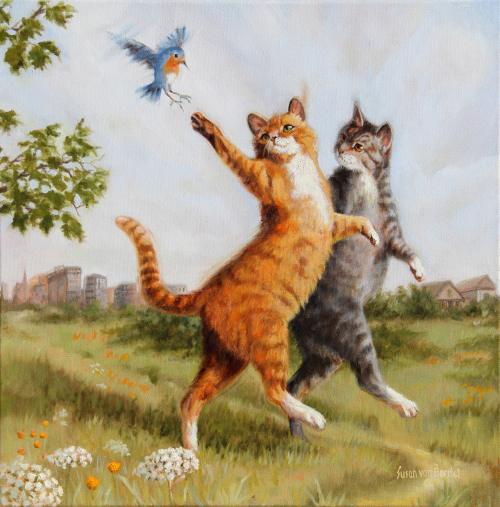 Let's Get Along, oil on canvas, 20" x 20", $2100.
---
My website: susanvonborstel.com Email: This email address is being protected from spambots. You need JavaScript enabled to view it.

My original paintings can be seen at these galleries:
---
To view this on my website click here
You have received this email because you have subscribed to my newsletter
If you no longer wish to receive email from me, please This email address is being protected from spambots. You need JavaScript enabled to view it.