Susan's Videos
Cattlemen's Western Art Show and Sale
Susan von Borstel displays her oil paintings on stone at the Annual Cattleme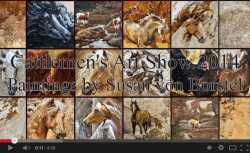 n's Western Art Shows. An "inviation only" show, the event is held at the Paso Robles Event Center.
Susan's original oil paintings are among the top sellers at the show which she has attended for the last 15 years.
This video shows Susan's process and paintings from the 2014 show.
Painting on Stone
Susan von Borstel is an internationally collected artist of horses, wildlife and people. She is currently painting with oils on natural stone.
The patterns and textures in natural stone are more than beautiful, they are recognizable. Like clouds they suggest an animal, a scene or a flower.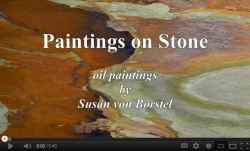 Susan hunts for inspiring patterns in stones and when she finds such a stone she creates friendly paintings that tease the viewer into supplying the details.
Susan's work is in private collections in the US, Canada, Taiwan, Saudi Arabia and others. Her work has been featured in many magazines and their covers. She offers original paintings and commissions.
This video explains how Susan started painting on natural stone and shows the evolution from bare stone to finished painting.
Deer Creek Crossing
A small herd of mule deer crossing a creek under the watchful eyes of their buck.
This video shows Deer Creek Crossing from the original stone to the finished painting.
Sold