Incredibly, we seem to be coming out of the pandemic and "normal" is changing with challenges and some mind-opening opportunities to appreciate what and who we have in our lives.
I've happily managed to keep painting daily. Thanks to all of your support for my work I'm in the studio with our studio mascot, Keeta (small dog), who loves the routine. I've completed three commissioned portraits of dogs and had time to experiment with new colors and techniques.
I just delivered paintings to the Sandz Fine Art Gallery in Pismo Beach. I hope you'll stop by!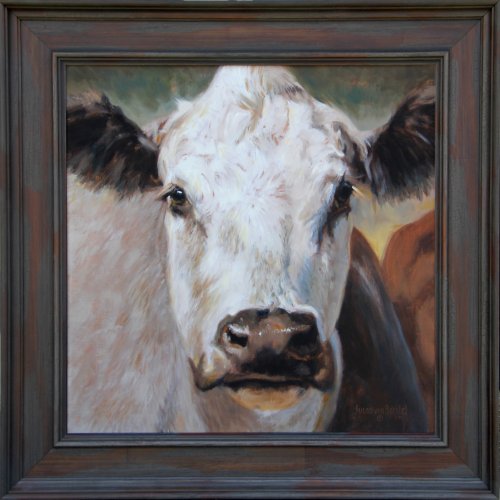 Oreo
oil on canvas, 20" x 20", $1900

Recently I went looking for animal subjects near home. I took classical music on my phone so I could get the attention of nearby cows. They loved it and wandered over for a concert.
Here are three cow paintings on canvas that I just finished. Hershey and Oreo are now in the "52nd Annual Mountain Oyster Club Contemporary Western Art Show and Sale" in Tucson, AZ. Contact me for tickets if you'd like to go see it.