Events and Exhibitions
Flowerfarm Cafe Art Show
January 17 to March 26
Come enjoy an afternoon at the Flower Farm
I've been busily painting these last few months and am pleased to invite you to take a peek at the results. Join us at the beautiful Flower Farm, 9280 Horseshoe Bar Rd, Loomis, CA. The Flower Farm Cafe walls and Casque Wines, a wine tasting venue, offer great spaces for my latest stone paintings and my new paintings on canvas. Lots of animal and bird pieces in the mix.
The exhibition is open now and runs until March 26 with the Celebration of the Arts, Sunday, March 18th from 1-4 in the afternoon. The other featured artist is Alice Shaw with her popular, whimsical animal paintings.
Please invite your friends and family. The Celebration of the Arts should be a great time for everyone. The Flower Farm is a wonderful spot for a get together or picnic. There will be wine tasting and munchies for all and pencils and paper for kids to draw their favorite things.
Surrounded by an orange orchard, the Flower Farm includes a bed and breakfast inn, a large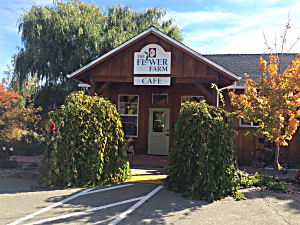 barn for weddings and parties, a nursery, a pond, a boccie ball court, the cafe, the beautiful Casque Wines tasting room and more.
Hope to see you there!
The Cafe is open from 7:30am-4pm Wednesday - Monday. Closed Tuesdays. 916.652.5661.
Casque Wines is open for tasting from 11am-5pm Thursday - Sunday. 916.652.2250
Cattlemen's Western Art Show and Sale
April 6 to 8
The 2018 Cattlemen's Western Art Show and Sale will take place from April 6th through 8th, 2018 at the Paso Robles Event Center in Paso Robles, California.
The San Luis Obispo County Cattlemen's Association is very honored to announce Susan von Borstel has been selected as the 2018 Featured Artist for their 28th Annual Western Art Show and Sale to be held at the Paso Robles Event Center in California.
I've started working on paintings for the show. They'll be available for sale only at the show in April.
Gallery 625 Exhibition:
The Art of Friendship
May 4 to May 29
Meet the Artists Reception: Friday, May 4, 2018 5:30-8:00PM
Sponsored by Yolo Arts
Gallery 625, 625 Court Street (County Administration Building), Woodland, CA 95695, 530-908-4321